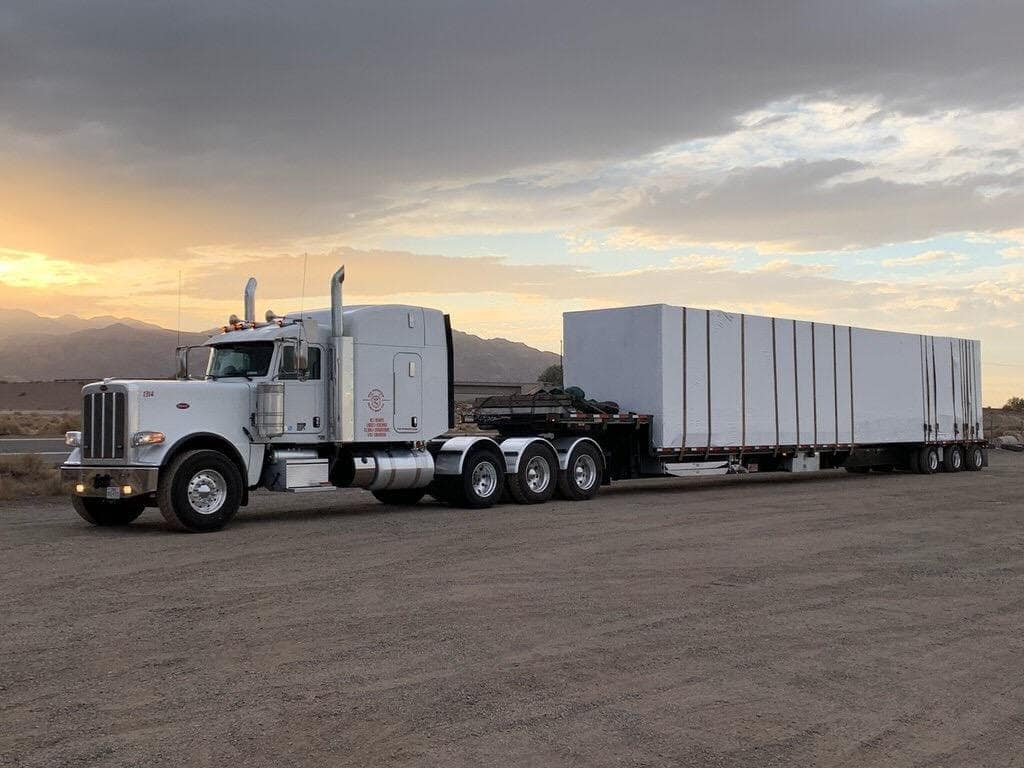 HEIGHT: 11 ft
WEIGHT: 38,000 lbs
LENGTH: 53 ft
WIDTH: 53 ft
TRANSPORT: 984.7 Miles
Transporting a 6.5 Million Dollar Data Processor
You read that right. Jimmy Tomasso, with an assist by his son J.T. Tomasso, hauled this 6.5 Million Dollar Data Processor from Buena Park, CA to Aberdeen Proving Ground, MD. That's a full cross country transport for this data processor. When they got the call, the client told them of the importance--and value of--of this data processor. The father and son transport specialist team knew that this oversize load was going to need a lot of caution and security measures. They wanted to make sure that it made it safely.
After talking to several drivers, they selected one they thought fit the job. Thanks to years of experience, Jimmy and JT are experts at selecting the best driver for an oversize load. They always take special care, especially for loads worth as much 6.5 million dollars. After securing the data processor with straps and other safety gear, they made the driver double check it. Then, the data processor was off.
Thanks to the skills and knowledge of Jimmy and JT Tomasso this 6.5 million dollar data processor arrived in Maryland safely and on time.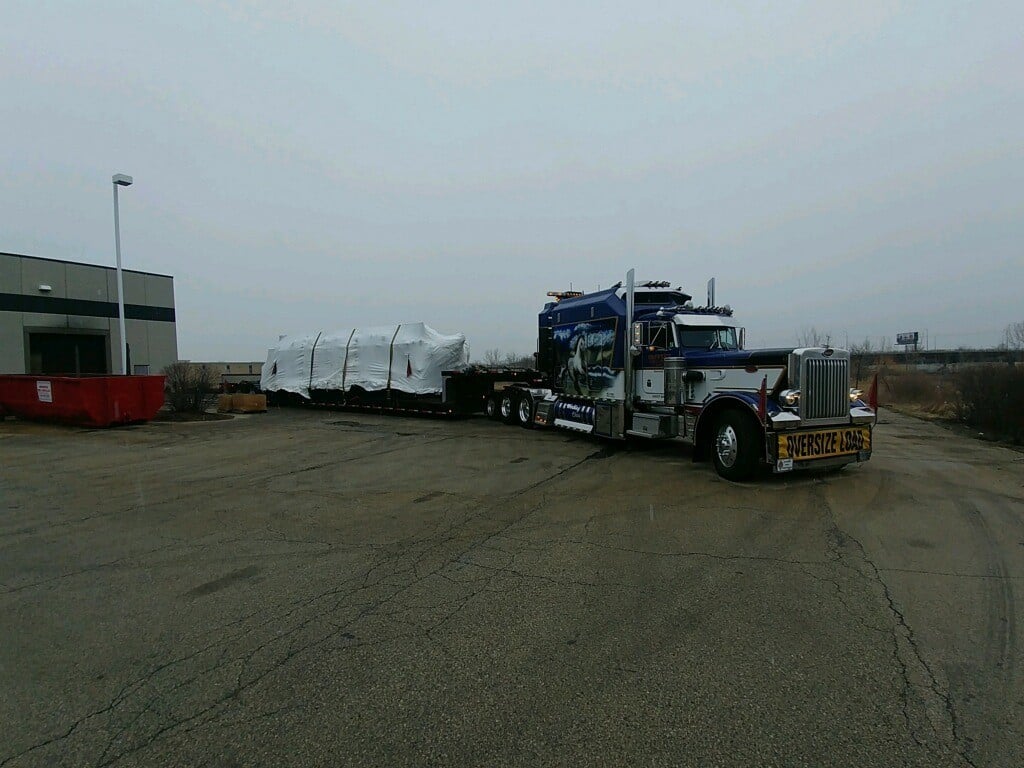 HEIGHT: 10.6 ft
WEIGHT: 90,000 lbs
LENGTH: 46 ft
WIDTH: 10.6 ft
TRANSPORT: 1,152 Miles
Shipping a CB2 Hardening Furnace from Wisconsin to Illinois
Milos Visnjik shipped this CB2 Hardening Furnace for a client out of Wisconsin. Hardening furnaces are commonly used for the heat treatment of steel alloys. When Milos received the call, he obtained all the details, before providing the client with a free shipping estimate.
As one of our top senior logistics specialists, Milos knew exactly how to handle a project of this size. At Heavy Haulers, our specialists understand it's about more than just a transport--it's about the care that goes into it.
Instead of picking just any driver, Milos made sure to recruit the best driver for the job. The CB2 Hardening Furnace was tarped and then secured to the trailer. This kept it safe from harsh road elements. Once safely delivered, the client was happy to keep Milos' number on hand for future oversize transports.
Milos is a highly requested logistics specialist for a reason. He always makes sure the job is done with top quality service.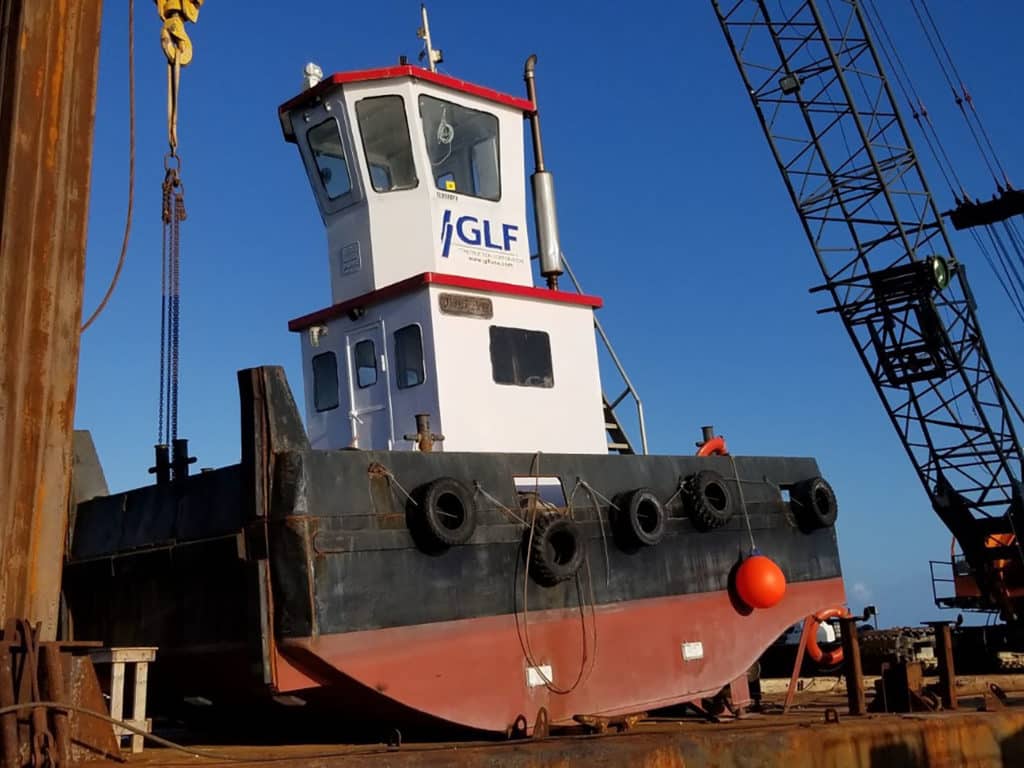 HEIGHT: 11 ft
WEIGHT: 38,000 lbs
LENGTH: 27 ft
WIDTH: 13.9 ft
TRANSPORT: 984.7 Miles
Transporting a Tugboat From Florida to New York
Stephen Ladd got the call to transport this 38,000lb tugboat from the warm south to the cooler north. Professionals used a crane to dismantle and load the inoperable tugboat. The top two pilot houses rode on one truck, while the main fuselage of the tugboat rode on another.
The team strapped down the tugboat parts to RGN trailers for safe transport. Stephen also obtained the necessary overweight and overwidth permits. He also enlisted the aid of a pilot car to escort the oversize tugboat loads.
Thanks to Stephen's expertise and professionalism, the team delivered the tugboat by deadline. Cranes also assisted in the offloading process when the tugboat arrived.
HEIGHT: 17.1 ft
WEIGHT: 79,366 lbs
LENGTH: 23.82 ft
WIDTH: 17.1 ft
TRANSPORT: 1,152 Miles
Oversize Boiler Tank Transport
Jay Hays arranged the pickup of this oversize boiler tank at the port in Houston. After arriving from Spain, they used a crane and loaded this heavy haul onto a bucket truck. To ensure safe travel, the secured rigging was double and triple checked. Jay arranged for a convoy to ride along with the boiler transport. This oversize haul required pilot cars and police for the most safety. Since the boiler is so large, they had to move and prop up power lines to avoid hazards. Jay made sure to take every precaution for a safe oversize transport.
From Texas, the boiler went to Hupp Electric Motors in Marian, IA. That's a 1,152-mile long haul for this oversize boiler tank. Jay monitored this heavy haul truck load during every leg of the journey. The boiler tank had a safe and on time delivery. Using cranes again, they offloaded the boiler for a very satisfied customer.
This project required an extreme amount of effort and manpower. Thanks to Jay and the Heavy Haulers team, this boiler tank transport had a smooth heavy haul journey.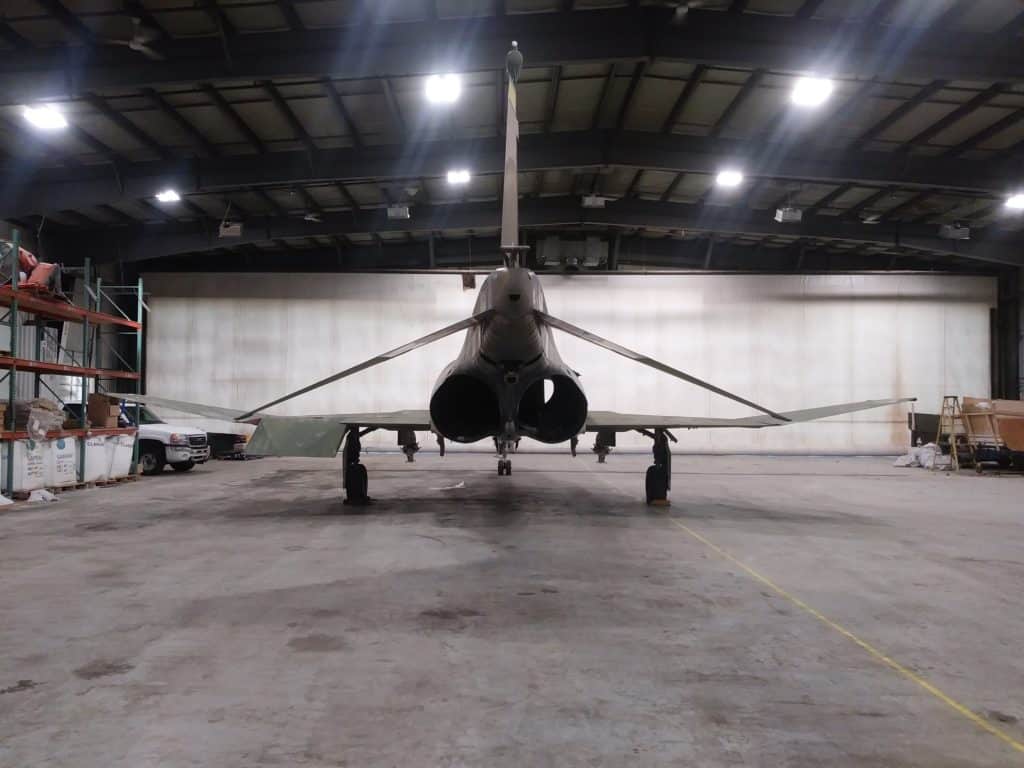 HEIGHT: 13 ft
WEIGHT: 10,000 lbs
LENGTH: 58 ft
WIDTH: 10 ft
TRANSPORT: 650 Miles
McDonnell Douglas F-4 Phantom Transport
We loaded this Phantom in Burlington VT and shipped it to Richmond, VA. We decided to transport this load on 3 seperate trailers, 1 for the body, 2 for the wings, and a 3rd trailer for the verticle stabilizer frame and crated items including that included 2 fuel tanks, 2 pylons, 2 wing tips, 2 missile launchers, 4 wing flaps, 2 leading edge slats, 1 tail cone, 1 horizontal stabilizer, 2 access doors for under the wings, 3 wing top access panels, 6 LH fuselage panels, 6 RH fuselage panels, 3 under fuselage/wing panels, and even the LH/RH missile launcher!
We arranged loading and unloading on both pickup and delivery by arranging crane services with the proper insurance backed by our secondary contingency cargo insurance to be safe. Once loaded, we drove it at a safe speed a total of 650 miles to VA. We provided 3 removable gooseneck trailers with escorts and pilot cars to travel across 6 states. Permits and escorts all obtained and coordinated by Heavy Haulers!
This load took strategic position planning considering the odd size of each piece. One of those being the wings, which ended up slanting at an angle slightly wider than 90 degrees, closer to 110 degrees. At this angle, it sat under 12ft wide in order to avoid a route survey and police escorts. We used a lower lowboy trailer at 14 inches from the ground rather than 18 inches which significantly helped this transport stay a legal load.
HEIGHT: 16 ft
WEIGHT: 138,000 lbs
LENGTH: 35.5 ft
WIDTH: 19.4 ft
TRANSPORT: 176 Miles
Taking Apart a 19 ft wide TR 100 Rock Truck While on Board!
We transported 4 of these Rock trucks from Golden Valley, AZ to Nogalez, AZ. Each of the loads were 19 feet wide! and 148,000 lbs! All permits and pilot cars were assigned properly in-house by the same agent who booked the load. Heavy haulers is your one stop shop!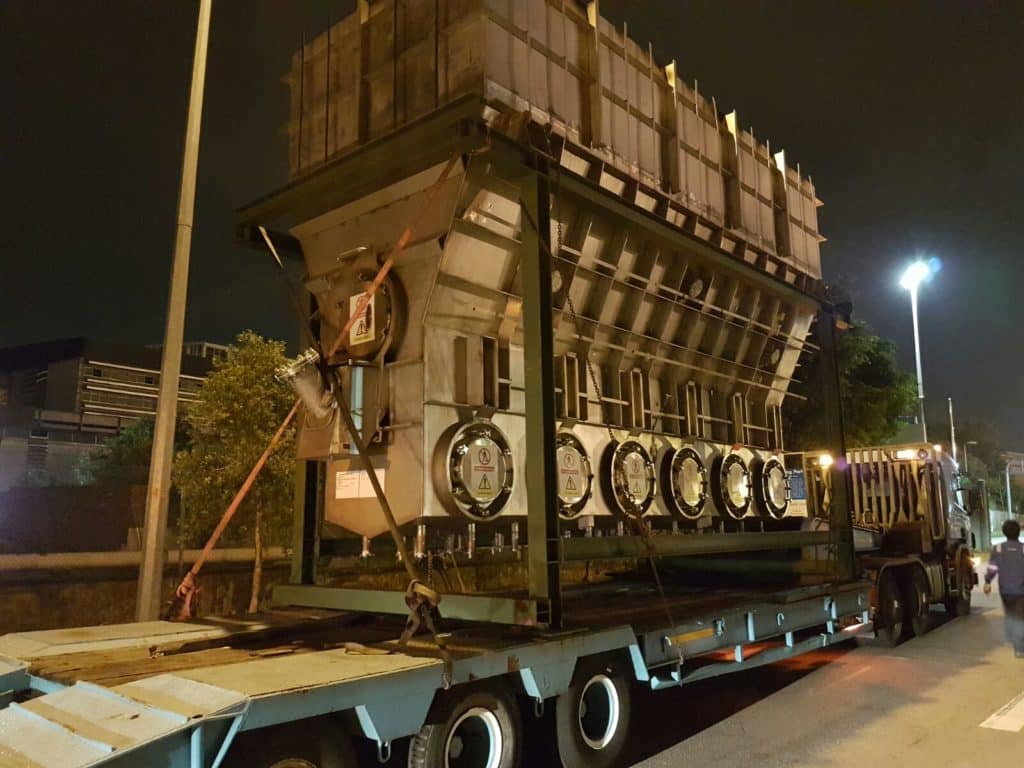 HEIGHT: 17 ft
WEIGHT: 19,000 lbs
LENGTH: 25 ft
WIDTH: 10.5 ft
TRANSPORT: 120 Miles
Oversize Furnace Transport
Loaded in Mobile, Alabama, we transported a single furnace weighing 19,000 lbs, 10.5 ft in width, 25 ft in length, and 17 ft in height. Heavy Haulers provided a removable gooseneck trailer with escorts and pilot cars to travel cross state. Permits and escorts all obtained and coordinated by Heavy Haulers!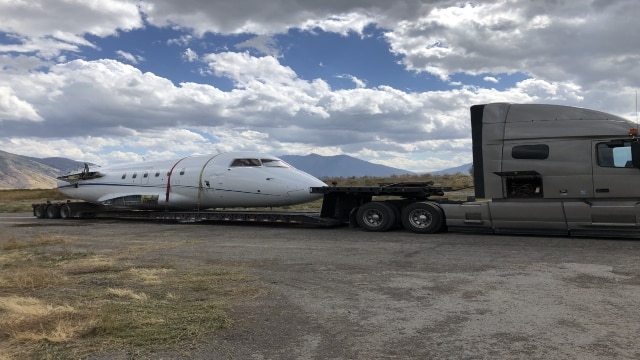 HEIGHT: 11 ft
WEIGHT: 10,000 lbs
LENGTH: 65 ft
WIDTH: 12 ft
TRANSPORT: 2,314 Miles
Transporting a Gulfstream Aircraft Airframe
This classic 1982 Bombardier Challenger 600 was recently transported on an extended RGN trailer. This Utah to Florida trip required oversize permits but did not require escorts because we only stretched to 90 feet. The planes overall length measured 65' with 55' of that sitting in the well. The planes engines, wings and tail section were transported on an extendable flatbed.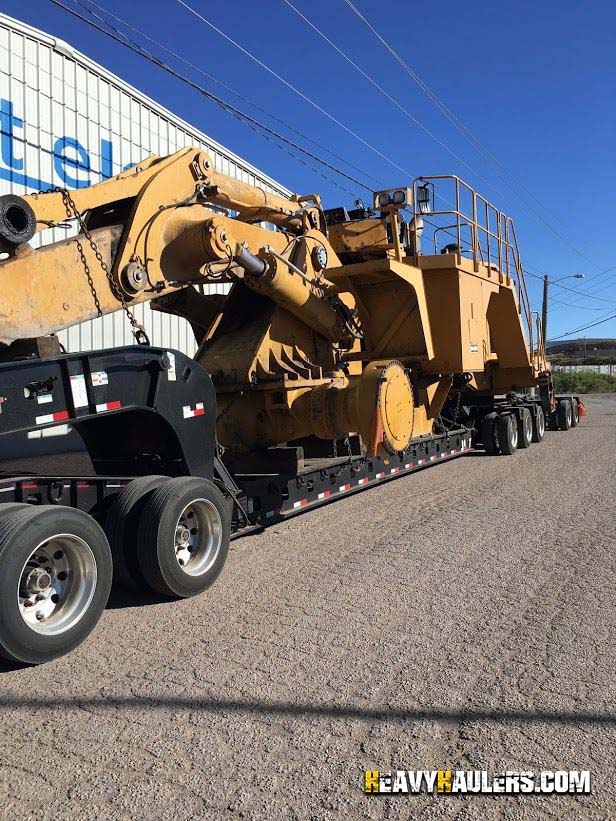 HEIGHT: 13 ft
WEIGHT: 130,000 lbs
LENGTH: 27 ft
WIDTH: 13 ft
TRANSPORT: 2,018 Miles
130,000 Wheel Loader Cross Country Transport!
We shipped this 2007 Caterpillar 992G Wheel Loader from Sharples, West Virginia, to Nogales, Arizona. That's most of the way across the country, more than 2,000 miles. This oversize freight took a large team of experienced people to load and transport safely. All the proper permits were acquired for the client, and every precuation was taken to ensure the hassle-free and safe shipping of this wheel loader.
This load had to be handled with specialty care. All of our logistics agents and drivers are trained in heavy haul trucking for this very reason. When transporting something like this wheel loader pilot cars and escorts are necessary to ensure it moves through the highways safely. We want to not only keep the freight safe, but also the people transporting it, and the highways as well. Heavy Haulers strives for quality and hassle-free transport. With over a decade of industry experience we've gained the knowledge needed to transport oversize loads safely.
HEIGHT: 15.2 ft
WEIGHT: 25,000 lbs
LENGTH: 46 ft
WIDTH: 11.8 ft
TRANSPORT: 2,100 Miles
FITTING 60 FT OF LOAD ON A 53 FT STEP DECK!!
This was a cross-country move, so in order to save our customer on cost, we hired a crane lifting service to lift the tail of the truck in the air while we backed in the second cab, then lowered it right onto the chassis, we also removed the front tires to keep it within legal height. We arranged the entire process and saved the customer over $2500 after expenses! That's what you call professional services!
HEIGHT: 16 ft
WEIGHT: 138,000 lbs
LENGTH: 35.5 ft
WIDTH: 19.4 ft
TRANSPORT: 176 Miles
Shipping an Oversize Mobile Home Cross Country
We recently transported this mini-house on wheels from Coweta, Oklahoma, to Anacortes, Washington. The trip was more than 2,100 miles. That's a long way with a wide load! We used a ball-and-hitch tow rig. Call us to transport your oversize items, (800) 908-6206. Weight: 25,000 pounds. Length: 46 feet. Width: 11 feet 8 inches. Height: 15 feet 2 inches.