Hot shot trucking is a form of transport for time-sensitive LTL freight. That means the cargo is smaller or lighter, and it's on a tight deadline to be delivered. While hot shot trucking can provide cross-country equipment shipping, most hot shot transports travel through local or regional routes.
That's one of the reasons hot shot trucking is excellent for fast equipment transport. Hot shot trucking drivers only need a CDL (commercial driver's license) if the gross weight of the freight exceeds 26,000 lbs. There is always an urgent demand for hot shot truck drivers to deliver equipment safely and quickly while adhering to trucking safety standards and DOT guidelines.
The Origin of Hot Shot Trucking
The origin of hot shot trucking dates back to the late 1970s. Texas oilfields came up with the idea of using pickup trucks and trailers that became "hot shot flatbed trailers" to run vital equipment back and forth quickly. They also used it for urgent runs and any other essential transport needed.

Eventually, the hot shot trucking method caught on to other industries and, over time, evolved into transport for LTL equipment, machinery, and more. It's an excellent option for rushed and urgent freight needed for critical industrial, construction, or mining operations.
What is the Difference Between Hot Shot Trucking and Expedited Freight Shipping?
The difference between hot shot trucking and expedited freight shipping is partially in the transport method. Hot shot trucking is an expedited freight transport, but it can only take on certain types of equipment. Equipment or machinery is hauled by a pickup truck and hot shot trailer, and that freight must be hauled now. It's also usually a dedicated piece of freight.
Expedited freight shipping, however, can be done with a semi-truck, straight van, or other types of transportation. Where hot shot trucking is usually regional, expedited freight shipping may occur across the country or overseas. Expedited freight may also be oversize and more than just one piece of cargo.
The Pros and The Cons of Hot Shot Trucking Services
As with any transport, hot shot trucking has pros and cons. One of the top advantages is the speed and precision when shipping equipment. But hot shot trucking may not be suitable for your freight shipment. Let's find out the pros and cons to help make an informed decision.
Pros of Hot Shot Trucking
Expedited transport.
Dedicated freight shipping.
Expedient pickup and delivery.
Excellent for local and regional transport.
Cons of Hot Shot Trucking
Not suited for cross-country equipment transport on most occasions.
Can legally only carry 16,500 lbs of gross weight. Anything over that requires the driver to have a CDL.
Can't transport equipment in bulk.
It may be more expensive because it's an expedited, on-demand service.
Types of Trucks Used for Hot Shot Freight Hauling
The types of trucks for hot shot transport are medium-duty pickup trucks. Medium-duty pickup trucks are considered class 3, class 4, or class 5. These trucks are classified as non-commercial vehicles.
Truck classifications are determined based on the Gross Vehicle Weight Rating (GVWR). The GVWR provides the maximum truck weight and the maximum fully loaded weight. A fully loaded weight includes the truck weight, fuel, passengers, trailer tongue weight, and freight.
You must meet specific requirements to use a medium-duty truck for hot shot trucking. We'll discuss those requirements later. Here are the classification GVWR and examples of trucks in hot shot transport.
Class 3 Pickup Trucks
Gross Vehicle Weight Rating (GVWR): 10,001 to 14,000 pounds / 4,536–6,350 kilograms.
Examples:

Chevrolet Silverado 3500 Pickup Truck
Ford F-350 Pickup Truck
GMC Sierra 3500 Pickup Truck
Ram 3500 Pickup Truck
Class 4 Pickup Trucks
Gross Vehicle Weight Rating (GVWR): 14,001 to 16,000 pounds / 6,351 to 7,257 kilograms.
Examples:

Chevrolet Silverado 4500 Pickup Trucks
Ford F-450 Pickup Trucks
Ram 4500 Pickup Trucks
Class 5 Pickup Trucks
Gross Vehicle Weight Rating (GVWR): 6,001–19,500 pounds / 7,258–8,845 kilograms.
Examples

Chevrolet Silverado 5500 Pickup Trucks
Ford F-550 Pickup Trucks
Ram 5500 Pickup Trucks
What is a Hot Shot Trailer?
A hot shot trailer is a specialized trailer that attaches via hitch to medium-duty pickup trucks for expedited freight transport. There are a few types of hot shot trailers, so let's talk a little more about them.
Hot Shot Trailer Types
Pickup trucks used for hot shot trucking don't come with a trailer attached to them. The hot shot trucking company chooses the trailer to be fixed at the back of each pickup truck depending on its capabilities and the type of loads it will be transporting. Below are some trailers used in hot shot trucking.
Hot Shot Bumper Pull Trailers

Bumper pull trailers transport loads that are 10,000 lbs or less. Anything past that weight will cause them to lose stability. Bumper pull trailers are less expensive and shorter, but also limit load size.

Hot Shot Gooseneck Trailers

Gooseneck trailers are a favorite among hot shot trucking drivers. It has a high turning radius, which allows more maneuverability in tight spots. The most common trailer length of a hot shot gooseneck is 40 ft. However, some gooseneck trailers are restricted in certain states and require proper licensing.

Hot Shot Lowboy Trailers

Lowboy trailers transport the heaviest hot shot loads. They have a low center of gravity. When the hot shot driver unhooks the lowboy trailer from the truck, it lays flat on the ground for easy loading.

Hot Shot Dovetail Trailers

Dovetail trailers angle down at the end of the trailer. As such, this makes it popular to transport cars, wheel loaders, and other equipment on wheels. The easy loading capability makes hot shot dove trailers a favorite with high resale value.

Hot Shot Tilt Deck Trailer

As the name suggests, tilt deck trailers tilt at an angle that allows loading from the ground. Tilt deck trailers require little lifting energy. However, they require a bit more maintenance because they have a hydraulic system that requires a regular change of oil and filters. Besides that, the moving parts need to be oiled to avoid rusting.

Hot Shot Car Hauler Trailer

The car hauler trailer is enormous in the hot shot trucking industry. Car hauler trailers come in a variety of types, including single car trailers, gooseneck car trailers, and wedge car trailers.
Hot Shot Trucking Rates
Hot shot trucking rates, on average, are $1.50 to $1.69. However, that is just the introductory rate without any other variables. Hot shot trucking rates can range from $1.00 to $4.00, depending on mitigating factors. These rates fluctuate depending on what you need, the cost of fuel, and more.
Factors That Go Into A Hot Shot Trucking Rate
The distance from the pickup location to the drop-off point influences the cost of hot shot trucking. Shorter hot shot hauls will cost less than further distanced ones. As mentioned, hot shot is generally used for local or regional hauls, but crossing state lines and other factors affect the hot shot trucking quote.
Size and Weight of Freight
The dimensions of freight always play a factor in hot shot trucking rates. The width, height, length, and weight matter because this can affect whether permits are needed, fuel costs, and more. The heavier and larger the freight, the higher the transport rate.
With its often harsh weather, winter may cause prices to go up because of the conditions the driver must transport through. Shipping in winter may also cause delivery delays, depending on the safety of the road. However, summer is the peak shipping and transport season, which means drivers are more in demand. Depending on your location and how busy things are, prices may increase during the summer months.
Condition of the Machinery or Vehicle
Hot shot trucking services for driven machinery and vehicles onto the trailer cost less than equipment that needs load assistance. This could be a non-running vehicle or broken-down equipment. The rate goes up when the freight requires a crane or forklift to load.
Hot shot trucking rates are influenced by where the load is picked up and delivered. Some pickup and drop-off locations have limited access, which may require provisions for safe delivery. In this case, the rate may be higher. Routes and cities with excessive tolls for tunnels, bridges, and highways can also increase the rate.
Because so many factors go into a hot shot trucking rate, it's important to work with a company that understands the details. When you work with a logistics company, you most often get a better rate than trying to do negotiate on your own.
How To Choose a Hot Shot Trucking Company
To choose a hot shot trucking company, you need a licensed, bonded, and insured provider who knows all about hot shot freight transport. Choosing the right hot shot trucking company saves you time, money, and hassle. Know what you're looking for, so you can find the best transport.
When choosing a hot shot trucking company, the bottom line is to know as much as possible. Make sure you're working with a reliable and experienced company that can handle your hot shot trucking needs and do it with quality service.
Fully Insured Hot Shot Trucking
The hot shot trucking company insures your freight before transport. While no one wants to think about potential accidents and other road hazards, it's important to be fully prepared should the unthinkable happen. Always ask for insurance information, not only for your freight, but the insurance for the hot shot trucking company as well.
Hot Shot Transport Quotes
A legitimate hot shot trucking company provides accurate quotes with no hidden fees. They calculate the best rate for transport, and also are transparent about why the cost came out to that specific number.
A Licensed Hot Shot Trucking Company
Ask the hot shot trucking company to provide their license number and search it on FMCSA to confirm. FMSCA also keeps a record of driving records, so you can see if the company has had an accidents in the past. The more information you have regarding their licensure and history, the better.
Hot Shot Trucking Company Online Reviews
There are always going to be mixed reviews when it comes to businesses. What's for one isn't for another. However, you want to ensure your hot shot trucking company has mostly decent reviews and that there are no ready flags to deter you from shipping. The most common sites that have reviews for hot shot trucking companies are Google, TransportReviews, TrustPilot, Facebook, and the BBB.
Response Time for Hot Shot Trucking Rates
No one wants to wait days for a response. If the hot shot trucking company doesn't return your call or email within an appropriate amount of time, you may want to check elsewhere. After all, hot shot trucking is for urgent freight. You want a company that cares about your freight shipping deadlines.
Experienced Hot Shot Trucking
You want an experience hot shot trucking company. Experienced companies know the ins and outs and how to find you the best hot shot transport rate. They know how to handle high-stress and difficult situations, so you don't have to.
When choosing a hot shot trucking company, the bottom line is to know as much as possible. Make sure you're working with a reliable and experienced company that can handle your hot shot trucking needs and do it with quality service.
Hot Shot Trucking FAQs
What are the typical hot shot rates in 2023?
Typical hot shot trucking rates in 2023 range from $1 to $4 USD. Because so many factors go into a hot shot trucking rate, it's best to speak with an experienced logistics agent to get the best rate.
What is a load in hot shot trucking?
A hot shot trucking load is time-sensitive freight that the driver must deliver in a short amount of time. The freight is smaller and lighter than full loads, so it can be delivered with a hot shot trailer and class 3, 4, or 5 pickup truck.
Do hotshot drivers load and unload freight?
It depends. Some may have the capability to load and unload freight, especially if the trailer allows you to drive the equipment right on. However, if the freight requires a crane or forklift, added assistance is necessary.
How much weight can a 40ft hotshot trailer carry?
A 40ft hot shot trailer can legally haul 16,500 lbs. Because they are limited in weight, these are great to transport freight such as UTVs, golf carts, and small equipment.
What You Need to Know About Hot Shot Trucking
Hot shot trucking is a reliable transport solution for LTL and lighter equipment loads that you need to be shipped fast. There are many factors and safety precautions to be aware of, which is why working with a broker is key. Nationwide Transport Services has years of experience providing hotshot trucking loads for clients all around the country.
With our expertise and highly-trained agents, we provide the best hotshot trucking solutions in the industry.

"The cost of hot shot trucking varies from one shipment to another. This is because the specifications of each shipment are different. Below, we will discuss some factors that influence hot shot trucking rates."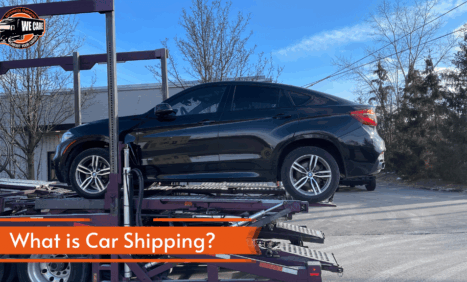 Learn With Nationwide: What is Car Shipping? Also known as auto transport or car transport, car shipping is the act ...
Read More

→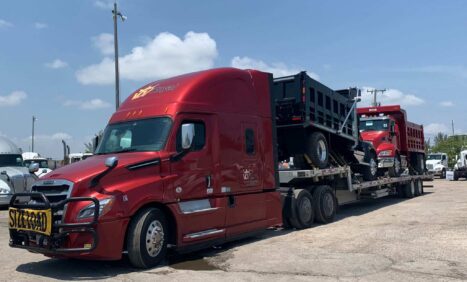 Custom infographic created by NTS Logistic's experts. When it comes to transporting vehicles or equipment, tolls are something that every ...
Read More

→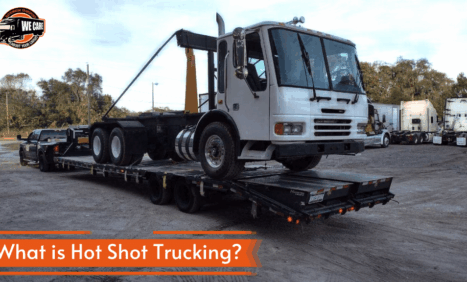 Hot shot trucking is a form of transport for time-sensitive LTL freight. That means the cargo is smaller or lighter, ...
Read More

→