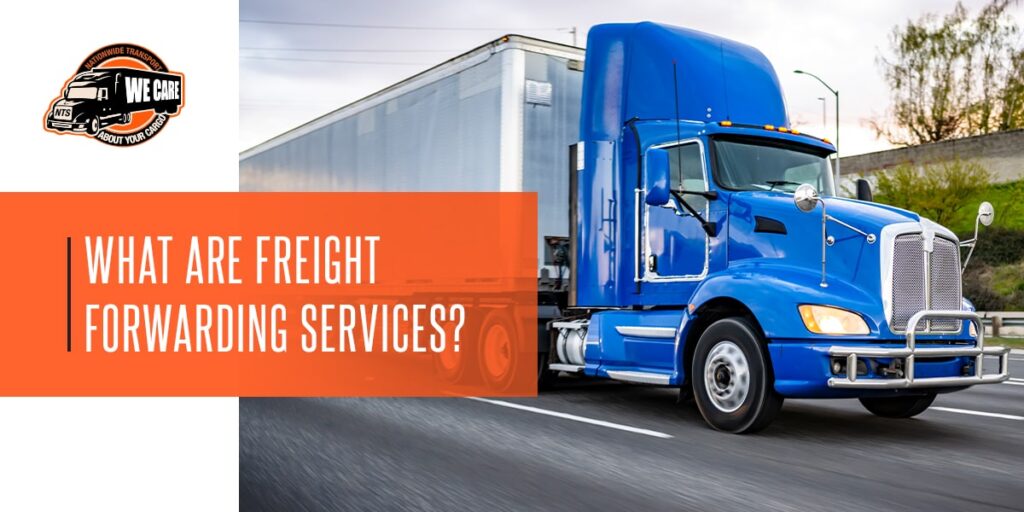 Shipping is an essential part of international commerce. Many businesses worldwide find success by shipping products to their clients in other countries. Even individuals can reach their goals thanks to the ability to ship the objects they need to move from point A to point B.
But shipping can seem daunting, especially international shipping. You must consider factors such as laws, regulations, prices and logistics. As you consider options to help you with your shipping needs, you should consider a few concepts. What is freight forwarding? How can freight forwarding services help you with shipping? And what is the difference between a freight forwarder and broker? Learn more below.
What Does a Freight Forwarder Do?
A freight forwarder arranges the storage and shipment of merchandise, products and possessions for its clients. A freight forwarder's clients include parties looking to ship items to their customers or clients. Or, individual shippers could need their possessions moved to a private destination and cannot accomplish the transport themselves, like shipping a vehicle across the country.
A freight forwarder also provides other services to their clients. These include the following:
Tracking transportation
Preparing all necessary documents for the shipping and exporting process
Warehousing and bulk storage
Booking space for cargo during transportation
Negotiating and bidding freight costs
Consolidating freight
Getting insurance for the cargo being shipped
Filing insurance claims in the event of damage or loss during shipment
To put it simply, a freight forwarder is a business that makes its money by arranging the importing and exporting of its clients' products, goods and personal items. As you can see from the services listed above, the process of shipping these goods can be quite extensive.
How Does Freight Forwarding Work?
Forwarding freight is a multistep process that demands a lot of steps your freight forwarder must follow to get the job done. It all starts with the freight forwarder's foundation of knowledge of the shipping industry. They understand how shipping works and how to negotiate the best shipping deals. They also can customize the shipment of goods to ensure the products reach their final destination in as little time as possible.
When a party needs shipping services, they contact their freight forwarder with a request for shipment. The freight forwarder then acts as the bridge between the party shipping the products and the transportation service or services that will do the actual shipping. Freight forwarders will contact various types of transportation services, including ocean, air, rail and ground transportation.
Freight forwarders may also offer to store their clients' products during waiting periods for transportation. This takes more of the responsibility for the shipping process from the clients and places it on the freight forwarder.
Freight forwarders may choose to bundle cargo or assemble products in specific ways to facilitate a more efficient shipping process. Freight forwarders will also stay up to date with laws and legal requirements in all the shipment areas to ensure the lawful international shipment of goods.
Freight Forwarders vs. Freight Brokers: What's the Difference?
Another shipping option that's important to know about is a freight broker. Freight brokers differ from freight forwarders in many key ways, but they also share many of the same responsibilities and offer several of the same services. Before deciding to use a freight forwarder for your shipping needs, you should understand freight brokers and the shipping solutions they can provide.
While freight forwarders offer several services, including those listed above, freight brokers offer a more streamlined, simplified approach. At their core, freight brokers connect parties in need of shipping with transportation service providers, much as freight forwarders do. Both freight brokers and freight forwarders must register with the Department of Transportation's Federal Motor Carrier Safety Administration to achieve their authority. But the differences become more noticeable from there when it comes to a freight forwarder vs. a broker.
Here are some of the major differences between freight forwarders and freight brokers:
Area of focus: Often, freight brokers will only deal with shipments within the bounds of a single country. If they do handle international shipments, they usually occur within a specific area. This differs from freight forwarders, which can provide any type of international shipment if they choose.
Storage of goods: Many freight forwarders store their clients' goods as they await shipment. Brokers forgo this service and avoid taking possession of any freight throughout the shipping process.
Legal responsibilities: Since freight forwarders facilitate shipment across countries near and far, they must navigate the legal requirements needed for successful shipments. Freight brokers focus mainly on the laws and requirements within a single country, such as shipments with United States-based starting and ending points.
Should You Use a Freight Forwarder?
Several situations exist where it's advantageous to use a freight forwarder for your shipping needs. Here are some of the benefits of a freight forwarder:
Merchandise storage: Freight forwarders will store your goods as they await shipment. If you need to relinquish control of your goods before shipping for any reason, then a freight forwarder would be a good option for you.
Intermediary services: Finding the right transportation service provider can be challenging. A freight forwarder will communicate with these service providers on your behalf, giving you more peace of mind.
Flexible packaging configurations: Since freight forwarders take possession of your goods, they have the ability to reconfigure and repackage them as they see fit to enable the most efficient and regulation-meeting shipping solutions.
Labeling: Proper labeling is more important than it may seem. It can be the difference between a delivered package and one that goes to the wrong destination or gets confiscated. Freight forwarders will apply the correct labels to your goods so you meet all requirements.
Why Use a Freight Broker?
Be sure to consider the benefits of working with a freight broker when you need to ship your merchandise or possessions. Freight brokers offer the following benefits:
Navigation of industry changes: The shipping industry is constantly changing as it evolves and adapts to today's trends and regulations. Freight brokers stay current with all the factors that could affect your shipment, saving you money and shipping your goods more efficiently.
Lower shipping fees and better rates: Freight brokers have the industry knowledge and experience to get you the lowest rates possible for your shipments. They have spent years forming relationships with transportation service providers, a situation that lets them negotiate better deals for you with confidence.
Route efficiency: Your freight broker's goal will be to ship your products as quickly and safely as possible. They'll find the best routes for your situation to ensure fast delivery times and safe arrivals.
Claims handling: The process of filing claims to pay for lost or damaged goods can be long and frustrating. You get to skip these frustrations when you work with a freight broker since they'll handle the claims process for you.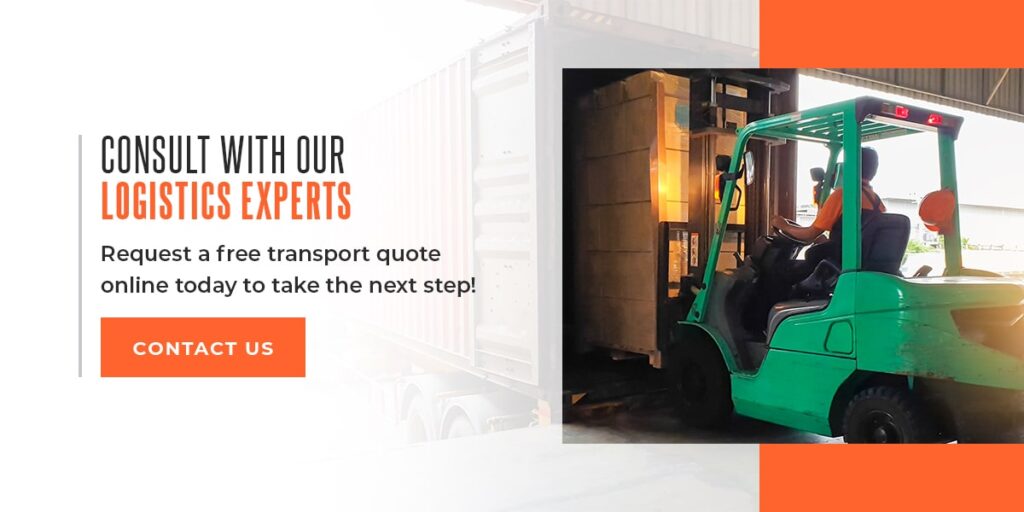 Consult With Our Logistics Experts
Contact our freight and logistics services team if you need help with your shipping situation. We have the knowledge and experience to help you reach your goals, working for your best interests every step of the way. Request a free transport quote online today to take the next step!

"A freight forwarder arranges the storage and shipment of merchandise, products and possessions for its clients."
Sorry, we couldn't find any posts. Please try a different search.