When you have a shipment of goods too small for a full truckload but more than a parcel carrier can handle, less-than-truckload shipping (LTL) services are a great solution. If you're looking to improve your bottom line, switching from your current shipping methods to LTL transportation can benefit your business. This method can save money and streamline your logistic management efforts.
Discover more about less-than-truckload shipping below and see if this freight shipping option would suit your operations.
Brief History of LTL Freight Shipping
In the late 1880s, the Interstate Commerce Commission (ICC) was established to regulate the freight industry. If you were a new motor carrier in the early 20th century, you needed to receive an ICC certificate to operate. Each carrier had to file tariffs until 1940, which was when the industry opened to fixed pricing that exempted carriers from antitrust laws.
Consequently, a monopoly began to form until the Motor Carrier Act of 1980 was created to deregulate the shipping industry. The competition started to rise, and low-cost truckers were able to enter the shipping industry from the union. Since then, LTL shipping has risen and continues to generate billions in freight transportation revenue within the United States.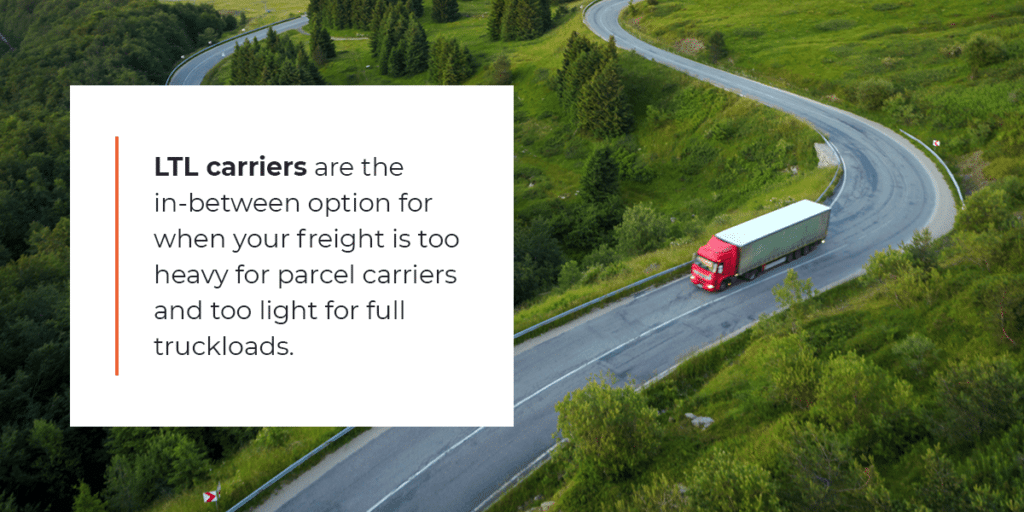 LTL Freight Shipping Weight and Size
When it comes to the shipping weight and size of an LTL delivery, there is a minimum and maximum. A typical weight range to be considered an LTL shipment is 150 to 15,000 pounds, although those bounds vary based on the shipping company used.
Other shipping operations' capabilities are what make LTL a viable option for many companies. The transportation of small parcels is often approved by parcel carriers like the postal service, FedEx and UPS. These entities can only handle packages less than 150 pounds. Full semitrailers handle transactions with massive freights reaching up to 45,000 pounds.
LTL carriers are the in-between option for when your freight is too heavy for parcel carriers and too light for full truckloads.
How Does LTL Freight Shipping Work?
LTL freight is a method of shipping pallets of cargo to a local facility from a distribution center. Also known as a hub and spoke operation, it's where freight is collected for distribution to various retailers. Drivers typically have set routes during these LTL operations, allowing them to make connections and professional relationships with retailers. LTL helps with improving your business's customer service rates and creates a trustworthy network between the retailer and LTL company.
Instead of paying for an entire truck you can't fill or breaking down your goods into individualized packages, LTL trucking works by specializing in the optimization of smaller loads compiled into a single freight truck. This operation allows for the efficient movement of more goods from various shippers.
For example, if you're shipping a single pallet, a second company is shipping four and a third is shipping five, the LTL company will optimize the space in the trailer to efficiently fit each shipment. You pay only for the portion of the trailer your freight takes up, then other shipments fill the rest of the unoccupied space.
The purpose of an LTL operation is to combine or consolidate different partial loads to create a full trailer with multiple stops within the same direction. LTL companies examine all their different loads in a given time and combine them in relation to nearby routes. They then build out multi-stop truck routes.
Benefits of LTL Shipping
If your shipping operations regularly exceed 15,000 pounds and can fill an entire trailer, LTL may not be the best solution. But LTL truck freight shipping can benefit your company on various levels, especially if you are a small business owner. LTL shipping can offer advantages for:
Cost
Flexibility
Security
Services
Sustainability
Tracking
If LTL shipping is right for your operations, you could take advantage of the following benefits.
More Cost-Effective
The main benefit of LTL services is cost savings. Compared to hiring a private truck and driver if you don't have enough products to fill a larger trailer, LTL shipping is much less expensive. You pay a fraction of the cost if you're going in on the service with other shippers who are using the trailer. You pay for the space you use, not for unused cargo space, which you might have experienced by using a full trailer.
Relying on an LTL shipping company can also reduce your warehouse costs. With the ability to send more shipments at a time with LTL solutions, you won't have to wait days, weeks or even months to fill a trailer. This benefit creates a more efficient process that also saves you money by getting more products out the door at a faster rate.
Flexible Options
Using a parcel carrier means you can only send 150 pounds at a time, which would mean you'd have to break down the shipment into separate boxes if possible. Instead, you can palletize your packages and shrink wrap everything into a single load, giving you flexibility with LTL freight. Place the heaviest items on the bottom, then include the appropriate label information, and your pallet is ready for LTL trucking services.
Secure Operations
LTL companies also set high security standards. They understand the importance of each shipment, whether you're sending a single pallet or several thousand pounds of products or equipment. You can feel confident that your goods are in safe hands from beginning to end. The ability to keep your freight together also decreases the chances of damage occurring, further saving you money and creating high customer satisfaction rates.
This shipping method is a more secure way of transporting freight that is most beneficial for small businesses. You gain the advantages of professional shipping without excessive services and shipping space you might not need as a smaller operation.
Advanced Services
Small freight transportation professionals also offer more services in comparison to trucking companies. Many LTL companies provide services such as:
Delivery updates
Freeze protection
Inside and residential pickup or delivery
Liftgate pickup or delivery
Reclassification
Reweighing
Liftgates help move shipments that are heavier than 100 pounds off the truck when a location doesn't have a loading dock. And with delivery updates, you and your clients can keep up with the entire process. Less-than-truckload shipping also grants you access to a team of logistic management experts. This access can prove especially useful if you don't have an in-house shipping team.
Partnering with the experts gives you a great connection if you need support throughout the shipping process. While LTL services strive for zero product damages, sometimes they occur in any situation. If this happens, the shipper can provide you the necessary information to file a claim or give further support to your customers.
Eco-Friendly Transportation
By filling fewer trailers with more freight, the process is more efficient and reduces emissions. Imagine hiring a semi to haul your goods that fill no more than a quarter of the trailer. It would waste time, money and space that could otherwise be filled with other products. LTL is a more environmentally friendly option that reduces the number of trucks hauling partially packed trailers. You could then consider using your eco-friendly shipping methods as a unique selling point to advertise to customers.
Technology Access
Because LTL companies use the latest technology, you and your business can benefit without investing in modern options yourself. When you partner with an LTL company, you gain access to freight tracking from start to finish and every stop in between. Both you and your customers will know real-time freight locations, helping you see the progress of each shipment.
There is a consideration to make with the less-than-truckload shipping method. Shipping times may be longer because multiple clients are consolidated into one trailer. There will be several stops at different locations, meaning your goods aren't on a direct route. The best way around time estimations is to always budget for more time. Your arrival times with LTL are often accurate, but with various factors coming into play from multiple other sources, timing can get delayed.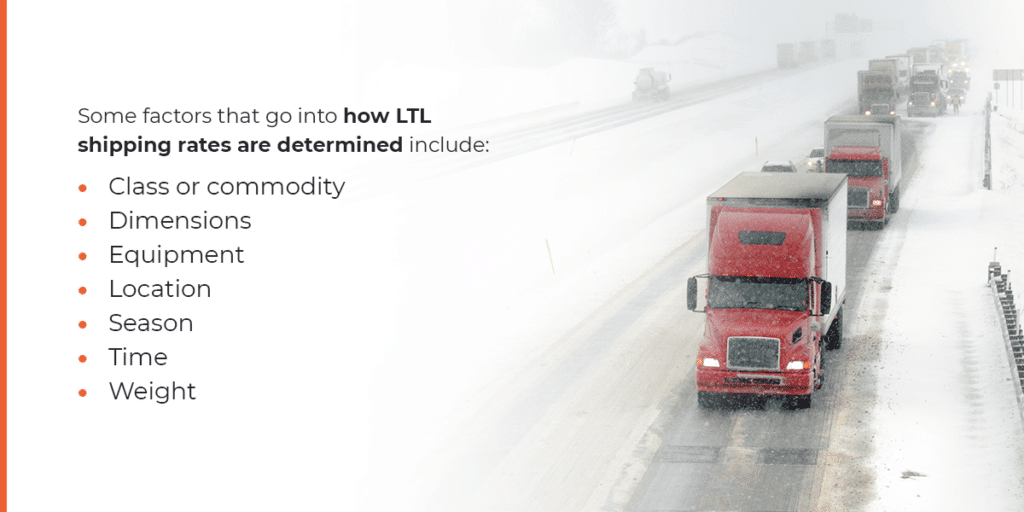 How Are LTL Shipping Rates Determined?
Various factors will determine LTL shipping rates, as well as the carrier you choose to partner with and their specific rates. Some factors that go into how LTL shipping rates are determined include:
Class or commodity:What type of goods are you transporting?
Dimensions:What are the dimensions of your freight?
Equipment: Will you require special equipment or handling for your items?
Location: How far do you need to transport your goods?
Season:Are cargos going out during the busy or off-season?
Time: Do you need to expedite the shipment?
Weight: What's the total weight of your palletized products?
The best way to prepare for a less-than-truckload shipment is to understand these aspects beforehand. Once you know what you're shipping and if you require any special requests, you can speak with an LTL company for more information.
It's often smart to add an extra inch to your cargo size or round to the nearest measurement so the length, width and height of your cargo are accurate, helping you avoid adjustment fees. Know which mode of transportation best fits your destination, make sure your weights are within range and understand whether your freight requires any specific handling solutions. Speak with a transport company like Nationwide Transport Services for more information about what services suit your needs and the rates you can expect to pay.
Is LTL Freight Shipping Right for You?
LTL solutions are great if you have in-between freights that are less than about 15,000 pounds but more than 150 that don't require a full trailer. Partner with a transportation management system company that delivers personalization, optimization, visibility and other substantial factors. Those offerings will help you gain a competitive advantage in your particular supply chain.
If less-than-truckload shipping sounds like a solution that will benefit your business, working with an LTL company that also offers competitive rates and exceptional services is crucial. Several things to look for include:
Analytics
Contract negotiations
Live data
Reporting
Shipment tracking
Technology
When looking for LTL services, ask yourself and the company if they have a streamlined logistics process that best serves your needs and budget.
Personalization is also one of the most valuable things to search for. An LTL service should tailor the shipment to your situation because each customers' needs are different. Your requests will differ from those of a construction site that needs heavy equipment or a small business sending a single pallet.
An LTL company should be able to consolidate all your needs and make the logistics manageable.
LTL Freight Shipping FAQ
Common questions about the LTL freight definition and its processes include:
1. What Is the Difference Between LTL and FTL Shipping?
FTL stands for full truckload shipments that require an entire trailer in terms of space and weight. Less-than-truckload shipping requires a more specific and smaller amount of space and weight.
2. When Should I Use LTL?
If you're transporting more than 150 pounds but not enough freight to fill a semi-truck, LTL is a great solution with competitive rates. Again, speaking with an experienced transport company can help you determine what's best for your operations.
3. What Is the Difference Between Parcel and Freight Shipping?
Parcels are more lightweight and individually packaged, while LTL freights are typically between 150 and 15,000 pounds, often palletized and shrink-wrapped. Freight shipping can also include other methods of transportation across the land, air and sea.
4. How Should I Package My Freight?
It depends on what you're shipping but in most cases, goods are placed on pallets with the heaviest items on the bottom, then shrink wrapped to secure the entire load. If you choose LTL services, your provider may offer more advice or information on how to best package freight.
5. How Many Pallets Is Considered LTL?
An average pallet can hold between 3,700 pounds to 4,600 pounds. Depending on what you're shipping, a load of about five to six pallets is considered an LTL shipment.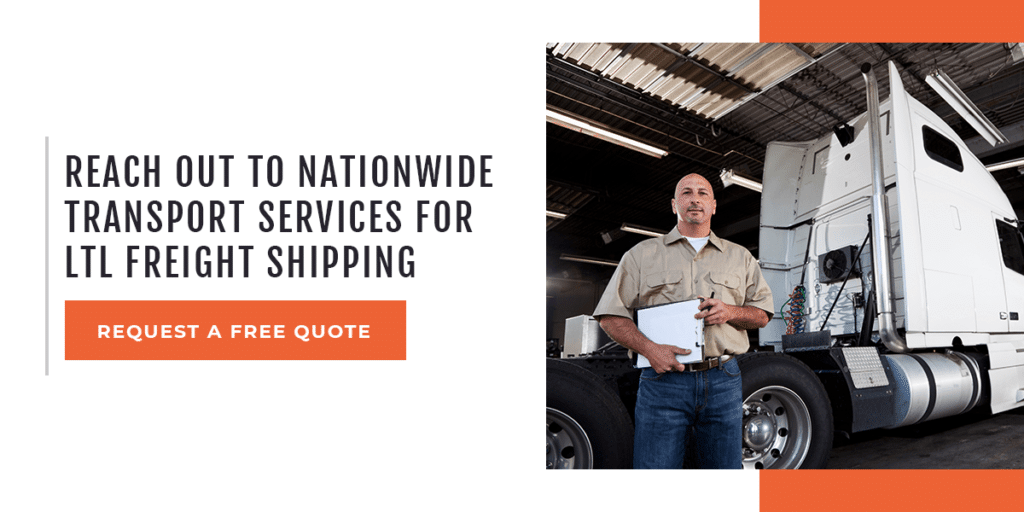 Our LTL Shipping Services
Nationwide Transport Services specializes in LTL transport. We understand your products or equipment are important for your livelihood, so we take great care in ensuring your goods reach the appropriate destination every time at a competitive rate.
When you partner with Nationwide Transport Services, you receive a personal logistics agent that handles every part of the LTL freight shipping process like payments, special requests, tracking, dispatching and more. Instead of having a department for each part of the delivery, a single dedicated rep is with you from start to finish, creating a seamless process to solve your problems and communicate your requests.
Reach out to Nationwide Transport Services for LTL freight shipping to get a free estimate, or contact us online for additional information.
"Instead of paying for an entire truck you can't fill or breaking down your goods into individualized packages, LTL trucking specializes in the optimization of smaller loads compiled into a single freight truck. This operation allows for the efficient movement of more goods from various shippers."
Sorry, we couldn't find any posts. Please try a different search.