Professional Container Shipping Services To and From Colorado
SHIPPING CONTAINER TRANSPORT SERVICES YOU CAN RELY ON IN Colorado
Nationwide Transport Services is the best and most reliable container transport company in Colorado. We have over a decade of experience transporting shipping containers to and from Colorado. We have state-of-the-art trailers to help us accommodate the weight and sizes of your shipping containers. We use forklifts and cranes to load and unload shipping containers safely. We assign a professional crane operator and rigger crew to each shipment to ensure your shipping container is well taken care of. The most common shipping containers we transport in Colorado are the 20ft and 40ft, but we also ship the rest. Our services are port to port, door to door, terminal to terminal, port to business, business to business, and every other location you'd like. 
Fully Insured and Affordable Container Shipping Services in Colorado
We use state of the art trailers to haul your shipping container safely
To protect your shipping container, we ensure it's fully insured before loading it on a trailer. Sometimes accidents happen during the loading, transit, or unloading. With our insurance, you claim total compensation directly from the insurance company if your shipping container isn't delivered safely. Take your time to inspect your container during delivery compared to the bill of lading form filled at the pick-up location. That will help you decide whether to sign the bill of lading form for safe delivery or not. The cost of transporting shipping containers in Colorado depends on the size, weight, season, and distance, among others. Our shipping estimate is free and accurate, and we also offer expedited container transport services in Colorado at an extra cost. To transport a shipping container to or from Colorado, contact us today through our toll-free number at (877) 278-3135. 
The best routes to use when shipping containers in Colorado
Safe and Timely Container and Flatbed Shipping Services in Colorado
In recent years, Colorado's economy has seen some significant shifts. Despite the continued challenges that the state faces, the economy has taken a turn for the better. Some important factors have contributed to this growth, including more favorable tax policies and the strength of the diversification within the industrial sector. For instance, the transportation of machinery, chemicals, and equipment is well-rooted. As a result, we pride our services on fulfilling our clients' shipment needs through the best routes. They include;
Interstate 25: stretches nearly 300 miles from the New Mexico state line to the Wyoming state line.

Interstate 70: The longest interstate highway within the state traversing through the Utah state line to the Kansas state line.

Interstate 76: connecting   Interstate 70 in Arvada to the Nebraska state line.

Interstate 225 touches Denver from Interstate 25 to Interstate 70 in Denver and Aurora.
COLORADO FLATBED SHIPPING SERVICES YOU CAN RELY ON
NTS SHIPS OVERSIZE LOADS AND HEAVY EQUIPMENT WITH EASE
Flatbed trailers are versatile because they can accommodate loads of different weights and sizes. The most commonly used are the 20ft, 40ft, 48ft, and 53ft. When you book our flatbed transport services in Colorado, we choose the most suitable trailer for your load, depending on its specifications. Therefore, ensure you provide us with accurate details about your load to help us serve you effectively. The main details are the weight, size, pick-up and drop-off locations, seasons, and dates. That information will help us provide an accurate shipping estimate and make the necessary arrangements to ensure your load is delivered on time. Flatbed trailers are used to ship farm equipment, machinery, and loads. 
Flatbed Trucking in Colorado
RGN Trucking in Colorado
Step Deck Trucking in Colorado
Drop Deck Trucking in Colorado
Low Boy Trucking in Colorado
Double Drop Deck Trucking in Colorado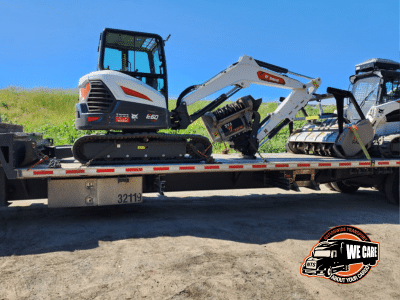 SAFELY RELOCATING HEAVY LOADS, EQUIPMENT, AND FREIGHT IN COLORADO
AFFORDABLE FLATBED SHIPPING COMPANY IN COLORADO
The cost of shipping a load on a flatbed trailer depends on its size, weight, distance, and season, among other factors. A bigger flatbed is used for even accommodation of the weight and size for heavier and larger loads. In that case, you will pay more due to high fuel consumption. We offer expedited flatbed shipping services to and from Colorado at an extra cost. That means we prioritize your shipment to ensure it's delivered within the shortest time. When shipping loads that are oversize or overweight on a flatbed trailer, we always acquire the necessary shipping permits to avoid fines. We work tirelessly to ensure every shipment is delivered safely and on time. We have a team of experienced drivers in Colorado ready to transport your load anywhere you want. For flatbed transport services in Colorado, contact one of our specialists today and get a free shipping estimate at (877) 278-3135.
FLATBED AND CONTAINER TRUCKING SERVICES ACROSS COLORADO
Nationwide Transport Services offers flatbed trucking services to and from every city in Colorado. We're familiar with the best routes to use in different cities to ensure your load is delivered on time. Common cities we serve include;
Denver, CO; Colorado Springs, CO; Aurora, CO; Fort Collins, CO; Lakewood, CO; Thornton, CO; Pueblo, CO; Arvada, CO; Westminster, CO; Centennial, CO; Boulder, CO; Longmont, CO; Loveland, CO; Broomfield, CO; Grand Junction, CO; Castle Rock, CO; Commerce City, CO; Parker, CO; Littleton, CO; Brighton, CO. Northglenn, CO; Security-Widefield, CO; Dakota Ridge, CO; Englewood, CO; Ken Caryl, CO;