Professional Shipping Container Moving Services in Indiana
Overseas transport for shipping containers, cars, heavy equipment and more.
Nationwide Transport Services is your one-stop if you're looking for a reliable and efficient container hauling services provider in Indiana. We have over a decade of experience, resources, and willpower to transport shipping containers of any size and weight. Our services are easy to book by calling our toll-free number, emailing, or filling out the form on our website. Once you reach out, an agent will be ready to answer all your questions and start working on your shipment immediately. Therefore, ensure you provide the correct information to easily identify a suitable trailer for transport and help us make conclusive plans. Size, weight, pick-up and drop-off dates, and locations are some of the important information. We offer port-to-port, business-to-port, port-to-business, business-to-business container transport services, and every other location of your choice. Below are some of the common ports we serve in Indiana.
Port of Indiana-Burns Harbour

Port of Indiana-Mount Vernon

Port of Indiana Jeffersonville
Fully Insured Container Transportation Services in Indiana
Transporting shipping containers across Indiana
Nationwide Transport Services must fully insure your shipping container and make you a holder of the insurance cover. That's important because you can claim total compensation if your shipping container isn't delivered safely. We handle every container with care during the loading and unloading to avoid damaging the goods or containers. With us, you can transport shipping containers of any type, size, and weight across the state, country, or internationally. Our services are affordable without any hidden fees. The bill of lading form filled at the pick-up location is used at the delivery point to help us know if your shipment arrived safely. To transport single or multiple shipping containers in Indiana, contact us today through our toll-free number at (877) 278-3135.
Safe and Timely Delivery of Your Shipping Container
Timely Container and Flatbed Shipping Services in Indiana
Indiana is a busy state, with many car shipping activities occurring throughout the year. Major car manufacturing companies and seaports that allow car shipping trucks into and out of the state are major contributors to car shipping. We have identified some significant highways commonly used during transport.
Interstate 65: which was previously the longest highway in Indiana, runs from the Kentucky state line in Jeffersonville, which is the southern or western terminus, to the Northern or eastern terminus, US 12/US 20, Gary.

Interstate 70: runs from the Illinois state line in the western terminus to the Ohio state line in Richmond at the northern terminus. 

Interstate 74: runs from the southern or western terminus to the northern or eastern terminus, Illinois state line to the Ohio state line, respectively.

Interstate 69: is currently the longest highway in the state of Indiana.
Contact us today to get a free freight shipping quote.
Professional Flatbed Trucking Services in Indiana
FLATBED SHIPPING SERVICES YOU CAN RELY ON IN INDIANA
Nationwide Transport Services is a fully insured and reliable flatbed shipping services provider. We transport all types of loads using our state-of-the-art trailers. Whether it's machinery or equipment, we will help you move it to a destination of your choice safely and on time. We have different sizes of flatbed trailers to help us transport loads of different weights and sizes. The most commonly used include the 20ft, 40ft, 48ft, and 53ft. When you book our flatbed transport services in Indiana, your shipping request is processed by a specific specialist whom you can contact at any time until your load is delivered safely. Always ensure you provide us with a load's accurate size and weight to identify the most suitable trailer for transport.
Flatbed Trucking in Indiana
RGN Trucking in Indiana
Step Deck Trucking in Indiana
Drop Deck Trucking in Indiana
Low Boy Trucking in Indiana
Double Drop Deck Trucking in Indiana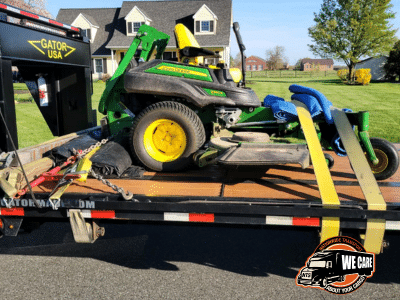 THE BEST FLATBED SHIPPING COMPANY IN INDIANA
Affordable Flatbed Transport Services in Indiana
The cost of flatbed transport services in Indiana depends on the weight, dimensions, distance, and season. For example, during the peak season, it's more expensive because there's a high demand for services. In addition, the cost of transport tends to be higher as the weight and the size increases because more resources are required. We use cranes and forklifts to load and unload shipments that can't be driven on and off a trailer. A rigger crew is present to guide the crane operator and secure the load for transport. We offer free and accurate shipping quotes to all our clients. For safe and timely flatbed shipping services, contact us today through our toll-free number at (877) 278-3135. 
FLATBED AND CONTAINER TRUCKING SERVICES ACROSS INDIANA
Nationwide Transport Services offers flatbed trucking services to and from every city in Indiana. We're familiar with the best routes to use in different cities to ensure your load is delivered on time. Common cities we serve include;
Indianapolis; Fort Wayne; Evansville; South Bend; Carmel; Bloomington; Fishers; Hammond; Gary; Lafayette; Muncie; Noblesville; Terre Haute; Greenwood; Kokomo; Anderson; Elkhart; Mishawaka; Lawrence; West Lafayette; Jeffersonville; Westfield; Portage; New Albany; Richmond;