Reliable Flatbed Trailer Shipping Services in Alaska
FLATBED SHIPPING SERVICES YOU CAN RELY ON IN ALASKA
Nationwide Transport Services is the best container transport company in Alaska. We've been shipping containers to and from Alaska for over a decade, which has given us the experience required to handle shipping containers of all sizes and weights. Whether your shipping container is 20ft, 40ft, empty, or full, we shall take care of it. We've invested in resources such as trailers for easy transport, cranes, and forklifts to load and unload shipping containers safely. We have a team of great specialists who know the requirements needed to transport your shipping container to any destination safely. Our container transport services in Alaska are door to door, port to port, terminal to terminal, port to business, and business to the port. Below are some of the ports we serve in Alaska.
Port of Anchorage

Port of Juneau

Port of Ketchikan

Port of Valdez

Port of Whittier
Fully Insured Container Transport Services in Alaska
CONTAINER TRANSPORT SERVICES YOU CAN RELY ON IN ALASKA
When transporting shipping containers or any other load, anything can happen during transit. Therefore, we always ensure yours is fully insured before it's loaded on a trailer so that if an accident occurs, you can be fully compensated. With Nationwide Transport Services, you even get a copy of our insurance bearing your name. With that, you can confirm we've insured your shipping container directly from the insurer. We must inspect your shipping container and fill out a bill of lading form showing its condition before transport. That document is important because we use it at the final destination to confirm if your shipping container has arrived safely. Contact Nationwide Transport Services today for reliable container transport services in Alaska at (877) 278-3135.
Convenient routes we use when shipping containers in Alaska
Safe and Timely Container Shipping Services in Alaska
Alaska's per capita personal income does reasonably well in competition with the other states, as the statistics ranked it 7th in 2018 among the 50 states. In 2013 it had the fifth-highest number of millionaires per capita. It's due to very lucrative industries geared by oil and gas production, as most of the state's taxes are from petroleum mining. Additional revenue sources include pollock, seafood, crab, and salmon exports. Agriculture is only for subsistence purposes. As a result, most employment comes from the government and other industries within the shipping and transportation sector. As such, employing the most efficient routes is required when moving. Some of these are;
Interstate A-1: it moves from Anchorage to the Canadian border in Alcan Border, covering 408 miles

Intestate A-2: which connects Tok to Fairbanks

Interstate A-3: used for linking Soldotna to Anchorage

Interstate A-4: moving from Gateway, near Palmer, to Fairbanks. It's slightly over 323 miles.
Reliable Flatbed Trailer Shipping Services in Alaska
FLATBED SHIPPING SERVICES YOU CAN RELY ON IN ALASKA
Transportation of loads to and from Alaska can be hectic when you don't work with a professional and experienced company like Nationwide Transport Services. We have a wide range of flatbed trucks to accommodate loads of different sizes and weights. Among them are the 20ft, 40ft, 48ft, and 53ft. The size of the flatbed trailer used highly depends on the weight and dimensions of a load, among other factors. Each of these flatbed trailers can accommodate loads of different weights and sizes. Therefore using the most suitable is key to avoiding inconveniences. If a load exceeds the limit of a flatbed trailer, there's a high risk of delay from the trailer breaking down. Always provide accurate information about your load to help us choose the best flatbed trailer to meet your transport needs.
Flatbed Trailer Transport in Alaska
RGN Trailer Shipping in Alaska
Step Deck Trailer Hauling in Alaska
Drop Deck Trailer Transport in Alaska
Low Boy Trailer Shipping in Alaska
Double Drop Deck Trailer Hauling in Alaska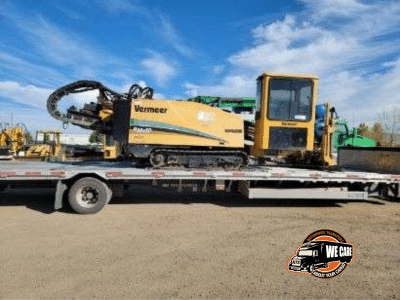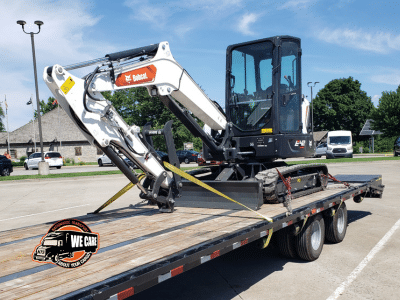 THE BEST FLATBED SHIPPING COMPANY IN ALASKA
Affordable Flatbed Trailer Shipping Quotes in Alaska
The cost of shipping a load on a flatbed trailer in Alaska depends on the weight, size, number of miles, and season. Flatbed trailer shipping services in Alaska are more expensive during peak seasons due to high demand. In addition, the more miles, the more you will pay due to high fuel consumption. We offer expedited flatbed trailer transport services to and from Alaska at an additional cost. That means your load is transported within the short time frame. We guarantee quality flatbed trailer shipping services in Alaska all year round. For flatbed trailer hauling services in Alaska, contact us today through our toll-free number at (877) 278-3135.
FLATBED AND CONTAINER TRUCKING SERVICES ACROSS ALASKA
Nationwide Transport Services offers flatbed and container shipping services to and from every city in Alaska. We're familiar with the best routes to use in different cities to ensure your load is delivered on time. Common cities we serve include;
Anchorage, AK; Fairbanks, AK; Juneau, AK; Sitka, AK; Ketchikan, AK; Wasilla, AK; Kenai, AK; Kodiak, AK; Bethel, AK; Palmer, AK; Homer, AK; Soldotna, AK; Unalaska, AK; Barrow, AK; Valdez, AK; Nome, AK; Kotzebue, AK; Seward, AK; Houston, AK; Wrangell, AK. Dillingham, AK; Houston, AK; Willow, AK; Anchor Point, AK; Fritz Creek, AK;