Professional Container Moving Services in California
Overseas transport for shipping containers, cars, heavy equipment and more.
Transportation of shipping containers to, from, or within California requires a lot of planning, resources, and experience. Therefore, hiring a reputable company like Nationwide Transport Services isn't an option but a necessity. The safety of your shipping container is guaranteed, and you get to enjoy quality services.  You can contact us through a call or email or by filling out the form on our website. We transport shipping containers of all sizes, weights, and designs. Our specialists will identify a suitable trailer for transport and deploy resources such as cranes to ensure your container is loaded safely and moved to a destination of your choice safely. The most common shipping containers are 20ft and 40ft. Our services are within the state, across the country, and internationally. We've successfully helped clients transport shipping containers to and from all the ports across California. Some of them include: 
Port of Long Beach

Port of Los Angeles

Port of San Diego

Port of San Francisco

Port of Oakland
Affordable Container Shipping Services in California
Transporting shipping containers across California
The cost of shipping a container to or from California highly varies depending on the season, size, weight, distance, and other factors. The larger and heavier the shipping container is, the more you will pay because it will require more resources and planning. With Nationwide Transport Services, you can go about your day-to-day business while you wait for the safe and timely arrival of your goods or empty container. We're committed to ensuring each client is treated with utmost professionalism. Once you contact us, ensure you have accurate information about your shipment to get a free and accurate container shipping quote. Some important information includes size, weight, pick-up, and drop-off dates and locations. Contact Nationwide Transport Services today to transport empty or full shipping containers to or from any location in California. Our toll-free number is (877) 278-3135.
Safe and Timely Delivery of Your Shipping Container
Get to Know More About California and the Highways We Use
California has some of the busiest seaports in the world. Many container cargoes coming into the country and going to different countries passes through these ports. As one of the most developed states in the world, the highways are as busy, but we always stay at the top of traffic and use the most convenient routes. Below are some common routes we use when shipping containers to or from California ports and crossing the state.
Interstate 5: a major north-to-south highway running from Mexican Border to the Canadian border at Blaine, Washington.

Interstate 8: it runs from Mission Bay at Sunset Cliffs Boulevard in San Diego to the junction with I-10 in Arizona.

Interstate 10 stretches from Santa Monica in California to Jacksonville, Florida.

Route 110: it connects the San Pedro and Port of Los Angeles to downtown Los Angeles and Pasadena.
Contact us today to get a free freight shipping quote.
TRANSPORT YOUR LOAD ON A FLATBED TRAILER IN CALIFORNIA
FLATBED SHIPPING SERVICES YOU CAN RELY ON IN CALIFORNIA
Nationwide Transport Services has carriers near you with different types of flatbed trailers for equipment transport. Depending on the weight and dimensions of your load, our specialists know the best flatbed trailer to meet your shipping needs. Flatbed trailers are ideal for transporting loads of different weights, sizes, and shapes because of their structure. They don't have sidewalls or a top which means they can transport oversized and overweight loads without a problem. These trailers are versatile and can be used to transport different equipment such as machinery, vehicles, trucks, and bulk cargo. Flatbed trailers are made to accommodate the weight and size of equipment evenly for efficiency. The standard flatbed trailers platforms include the 20ft, 40ft, 48ft, and 53ft. Flatbed trailers can transport loads that slightly exceed the maximum size of the platform. Nationwide Transport Services goes out of the way to ensure your load is given the attention needed and delivered safely.
Flatbed Trailer Transport in California
RGN Trailer Shipping in California
Step Deck Trailer Hauling in California
Drop Deck Trailer Shipping in California
Low Boy Trailer Hauling in California
Double Drop Deck Trailer Transport in California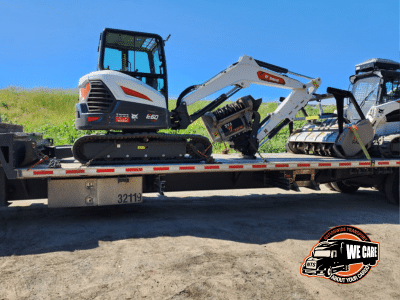 THE BEST FLATBED SHIPPING COMPANY IN CALIFORNIA
FULLY INSURED FLATBED TRAILER SHIPPING SERVICES IN CALIFORNIA
Before any load is dispatched, we ensure it's fully insured and the client's name is added to our insurance cover. If there's an accident, that gives them the power to claim total compensation directly from the insurance company. Once the specialist confirms your load will be transported on a flatbed trailer, they will advise you on how to prepare it for transport. For example, clean it to make the inspection easy and remove personal belongings. Your load should be ready for transport a few days before the transport date because sometimes the carrier might arrive early. In addition to flatbed trailer shipping services, we also offer step-deck, drop deck trailer, and lowboy trailer shipping services in California. These trailers are heavy duty and accommodate loads of more weight and sizes. For example, lowboy trailers are best for transporting loads that are extremely tall because they compensate for the height since they're low. For flatbed trailer shipping services, step deck trailer transport services, drop deck trailer hauling services, or low boy trailer transport services in California, call us today at (877) 278-3135.
FLATBED AND CONTAINER TRANSPORT SERVICES ACROSS CALIFORNIA
Nationwide Transport Services offers flatbed and container shipping services to and from every city in California. We're familiar with the best routes to use in different cities to ensure your load is delivered on time. Common cities we serve include;
Los Angeles, CA; San Diego, CA; San Jose, CA; San Francisco, CA; Fresno, CA; Sacramento, CA; Long Beach, CA; Oakland, CA; Bakersfield, CA; Anaheim, CA; Riverside, CA; Santa Ana, CA; Stockton, CA; Irvine, CA; Chula Vista, CA; Fremont, CA; Modesto, CA; San Bernardino, CA; Fontana, CA; Oxnard, CA; Moreno Valley, CA. Huntington Beach, CA; Glendale, CA; Santa Rosa, CA; Rancho Cucamonga, CA; Oceanside, CA;