Professional Container Shipping Company in Delaware
SHIPPING CONTAINER HAULERS IN DELAWARE
Nationwide Transport Services is the best container transport company in Delaware. We ship containers of all sizes and weights everywhere in Delaware and the rest of the states. So whether your shipping container is 20ft, 40ft, or any other, you can contact us through a call, email, or fill out the form on our website to get started. With our company, you only get to work with a specific specialist who will take information about your shipment and send you a free and accurate shipping estimate. Provide us with accurate information, such as the weight and size of your container, pick-up, drop-off, and date. Our container shipping services in Delaware are door to door, terminal to terminal, business to port, port to port, port to business, and wherever you prefer. Below are some of the ports we serve in Delaware. 
Fully Insured and Affordable Flatbed Transport Services in Delaware
CONTAINER TRANSPORT SERVICES YOU CAN RELY ON IN DELAWARE
When transporting your shipping container, we ensure it's fully insured against damage. In addition, we add your name to the insurance cover. That way, you can confirm if your shipment is insured directly by the insurer and claim compensation if your delivery doesn't arrive safely. The cost of transporting shipping containers in Delaware depends on their size, weight, season, mode of transport, and distance. The larger and heavier the shipping container is, the more you will pay because it requires a larger trailer. We use cranes to load and unload your shipping container safely. Nationwide Transport Services also offers expedited container transport services in Delaware at an additional cost. To transport a shipping container to or from Delaware, contact us today through our toll-free number at (877) 278-3135. 
Convenient routes we use when shipping containers in Delaware
Timely Container Transportation Services in Delaware
Delaware is a heavily populated state being the sixth most densely populated in the United States. This population makes up the seventeenth-highest number of millionaires within the nation, standing at 25,937 as of 2020. There is an excellent investment in the agricultural and industrial sectors within the state. Business owners chose to settle in Delaware due to its welcoming corporation laws. Due to the business chains, there is a need for shipping cargo and machinery, which calls for very reliable choices of highways. Hence we use the best routes for your needs. They are;
Interstate 95: which starts Maryland border next to Newark to Pennsylvania neighboring

Claymont.

Interstate 295 runs from New Port to the New Jersey border just next to Wilmington

Manor.

Interstate 895: connecting Newport to Claymont.

Interstate 495: which traverses from Newport to Claymont.
PROFESSIONAL FLATBED TRANSPORT SERVICES PROVIDER IN DELAWARE
FLATBED SHIPPING SERVICES YOU CAN RELY ON IN DELAWARE
Flatbeds are some of the most versatile trailers. They can transport all types of loads, including machinery and equipment. However, you need to find a trustworthy and fully insured company like Nationwide Transport Services to transport anything on a flatbed trailer. After 10+ years of offering flatbed shipping services in Delaware, we're confident that we can safely transport any load within and out of Delaware. We have a wide array of flatbed trailers to help us transport loads of different weights and sizes. Our services are door to door, port to business, terminal to terminal, port to port, and business to port. Our most commonly used flatbed trailers include the 20ft, 40ft, and 53ft.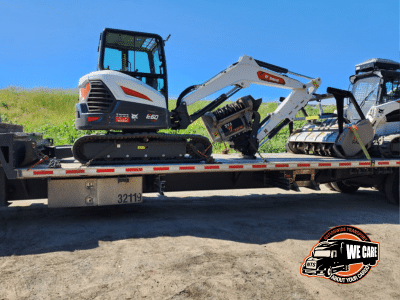 THE BEST FLATBED SHIPPING COMPANY IN DELAWARE
FULLY INSURED FLATBED SHIPPING SERVICES IN DELAWARE
Nationwide Transport Services must fully insure your load before it's loaded on a trailer for transport because sometimes accidents happen. With a copy of our insurance bearing your name, you can claim compensation directly from the insurer if your load isn't delivered safely. When our team arrives at the pick-up location, they will inspect your load and fill out a bill of lading form later used at the final destination to confirm if your shipment was delivered safely. Always take your time when inspecting your load because you can't claim compensation after signing a bill of lading. For affordable and timely flatbed transport services in Delaware, contact one of our agents today through our toll-free number at (877) 278-3135.
FLATBED AND CONTAINER TRANSPORT SERVICES ACROSS DELAWARE
Nationwide Transport Services offers flatbed and container shipping services to and from every city in Delaware. We're familiar with the best routes to use in different cities to ensure your load is delivered on time. Common cities we serve include;
Wilmington, DE; Dover, DE; Newark, DE; Middletown, DE; Smyrna, DE; Milford, DE; Seaford, DE; Georgetown, DE; Elsmere, DE; New Castle, DE; Bear, DE; Glasglow, DE; Pike Creek, DE; Claymont, DE; Wilmington Manor, DE; Hockessin, DE; Brookside, DE; Smyrna, DE; North Star, DE; Edgemoor, DE.