Shipping Container Moving Services You Can Rely On in Illinois
SHIPPING CONTAINER HAULERS IN ILLINOIS
Nationwide Transport Services is the best shipping container moving services in Illinois. We transport shipping containers of all sizes and weights. Whether empty, half-empty, or full, we will move it. We will transport your shipping container and ensure it's delivered safely and on time. Your shipping request will be handled by a professional specialist who will handle the paperwork and identify the best trailers for transport. Our shipping container transport services are door to door, port to port, port to business, business to business, and terminal to terminal. Below are some of the ports we serve in Illinois. 
Port of Chicago

Port of Quincy

Port of Lemont

Port of Rock Island

Port of Joliet

Port of Davenport

Port of Peoria

Port of Granite City

Port of Beardstown
Fully Insured Container Shipping Services in Illinois
CONTAINER TRANSPORT SERVICES YOU CAN RELY ON IN ILLINOIS
When transporting a shipping container, fully insuring it is essential. That's because you're guaranteed total compensation if it doesn't arrive safely. A bill of lading form showing the condition of the container before transport is filled out. We have enough resources to transport more than one shipping container at a time. Our shipping container moving costs in Illinois are affordable without hidden charges. We offer expedited container transport services to and from Illinois at an extra cost. To transport shipping containers to or from Illinois, call us now! (877) 278-3135. 
Convenient routes we use when shipping containers in Illinois
Timely Container Transportation Services in Illinois
Illinois has a great future in matters of employment and wages. Predictably, it will have a $15 hourly income by 2025, making it the highest-paid state nationally. The state is reputable for its mega production within the agricultural and manufacturing sector. Over the past years, it has held either the first or second position in producing soybeans and corn. Subsequently, it also leads in meat processing and food manufacturing. Cargo transportation is always ongoing, and thus the use of the most efficient routes is mandatory. We use;
Interstate 24: connecting between I-57 in Williams on County and I-24 at Metropolis.

Interstate 39: it's the link between Normal and South Beloit

Interstate 55: running from East St. Louis to Chicago

Interstate 88: standing at over 140 miles, it joins Silvis to Hillside

Interstate 90: connecting I-39/I-90 in South Beloit to Chicago

Interstate 94: connecting Russel to Lansing
PERSONALIZED FLATBED TRAILER SHIPPING IN ILLINOIS
FLATBED SHIPPING SERVICES YOU CAN RELY ON IN ILLINOIS
Anytime you want to transport a piece of equipment, machinery, container, or other loads, it's advisable to contact a reputable company like Nationwide Transport Services. We offer reliable flatbed trailer transport services in Illinois and have a carrier near you ready to move your load to a destination of your choice. To make a booking, call, email, or fill out the short form on our website, and one of our specialists will get back to you shortly. We use the information you provide to process your shipment.  Therefore, ensure it's accurate to help us identify a suitable trailer to meet your needs and make conclusive plans. Your shipment will only be processed by specific experts whom you can contact anytime. Our flatbed trailer shipping services in Illinois are personalized to meet your needs. Depending on your load's weight and dimensions, we will use a 20ft, 40ft, 48ft, or 53ft flatbed trailer. We're familiar with overweight and oversized limits in Illinois, and if your load exceeds them, we will apply for shipping permits.
Flatbed Trailer Transport in Illinois
RGN Trailer Shipping in Illinois
Step Deck Trailer Transport in Illinois
Drop Deck Trailer Hauling in Illinois
Low Boy Trailer Transport in Illinois
Double Drop Deck Trailer Shipping in Illinois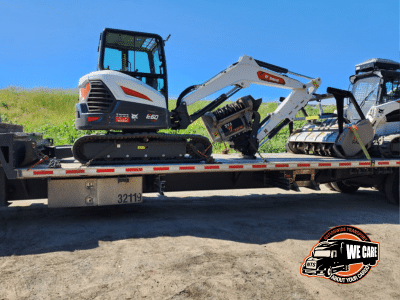 THE BEST FLATBED SHIPPING COMPANY IN ILLINOIS
SAFE AND TIMELY FLATBED TRAILER TRANSPORT SERVICES IN ILLINOIS
Nationwide Transport Services must inspect your load and fill out a bill of lading form before it's loaded on the suitable trailer. A bill of lading shows the condition of a load before transport and is used at the delivery location to confirm whether it was delivered safely. Therefore, ensure your load is clean and all personal belongings are removed to make the inspection process fast. We use a crane to lift them on and off for loads that can't be loaded on a trailer through driving. The specialist processing your shipment will arrange to have a rigger crew and crane operator at the pick-up and drop-off location if need be. To transport a load on a flatbed trailer in Illinois, contact us today through our toll-free number (877) 278-3135.
FLATBED AND CONTAINER TRANSPORT SERVICES ACROSS ILLINOIS
Nationwide Transport Services offers flatbed and container shipping services to and from every city in Illinois. We're familiar with the best routes to use in different cities to ensure your load is delivered on time. Common cities we serve include;
Chicago, IL; Aurora, IL; Rockford, IL; Joliet, IL; Naperville, IL; Springfield, IL; Peoria, IL; North Peoria, IL; Elgin, IL; Waukegan, IL; Cicero, IL; Bloomington, IL; Arlington Heights, IL; Bolingbrook, IL; Evanston, IL; Schaumburg, IL; Decatur, IL; Palatine, IL; Skokie, IL; Des Plaines, IL. Tinley Park, IL; Oak Lawn, IL; Berwyn, IL; Mount Prospect, IL; Normal, IL;